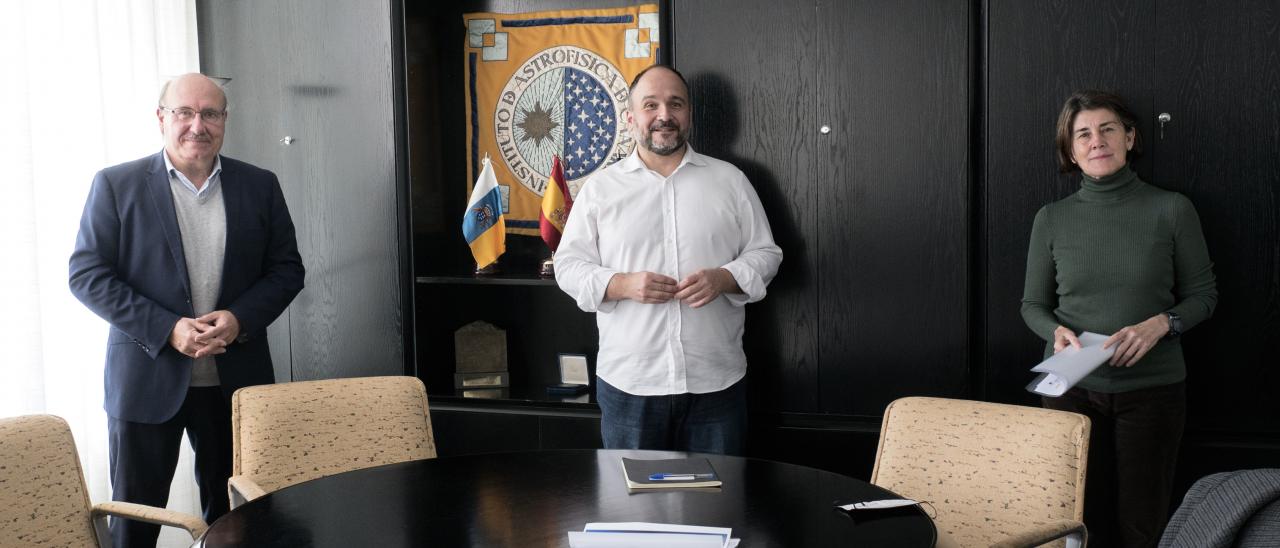 On Tuesday Jose Antonio Valbuena visited the installations of the Instituto de Astrofísica de Canarias (IAC) in La Laguna and the Teide Observatory
The Councillor for the Ecological Transition, the fight against Climate Change, and Territorial Planning of the Government of the Canaries, José Antonio Valbuena had a working meeting on Tuesday  with the Director and the Deputy Director of the IAC, Rafael Rebolo and Casiana Muñoz Tuñón, and the person in charge of the Environmental Commission of the IAC, Antonio Mampaso, to learn about the Institute's sustainability plan, whose aim is to reduce the carbon footprint by 80% in four years.
The Councillor was able to see at first hand the installations of the IAC in La Laguna and at the Teide Observatory, and was informed about the plan of activities devised by the Institutte. This plan foresees five líneas of activity, at the headquarters of the IAC in Tenerfie and in La Palma, as well as at the Teide and the Roque de los Muchachos Observatories. These include a reduction in journeys including flights, travel to work, the reduction of all types of consumables, and the installation of photovoltaic panels at its urban sites in order to generate as much as possible of the energy needed for satisfactory operation of the centres.
Valbuena noted that these objectives are very much in line with those which his Department had set in motion to achieve the decarbonization of the Archipelago by 2040. The Director of the IAC stressed that "respect for the envirnoment and the protection of the night sky are priority commitments for the IAC in order to continue to be a model for sustainable Astronomy" and he requested the advice and the institutional support of the Department to carry out the plan for sustainability and the environmental studies needed for the development of the scientific installations of the Observatories.