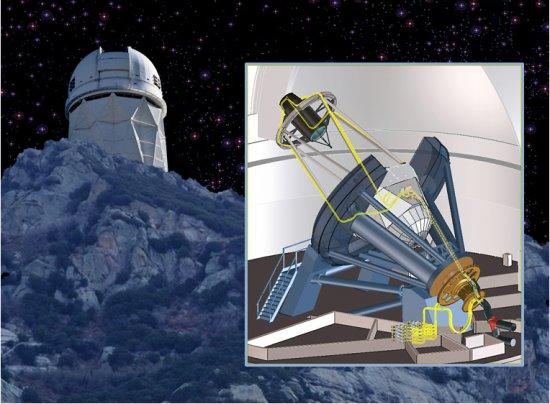 En los próximos cinco años este programa, que cuenta con la participación del IAC, determinará la localización precisa de 20 millones de galaxias y cuásares, retrocediendo diez mil millones de años hasta la infancia del universo
Mirando al cielo durante 500 noches con un gran telescopio se podrá construir el mapa del universo más grande jamás elaborado. La colaboración internacional BigBOSS propuso usar durante todo ese tiempo el telescopio Mayall de cuatro metros, del Observatorio Nacional de Astronomía Óptica (NOAO, por sus siglas en inglés), en Kitt Peak, Arizona (EEUU), para desarrollar el mayor cartografiado espectroscópico del universo jamás realizado y poder así desentrañar algunos de los enigmas de la energía oscura y la expansión del universo.  NOAO y la Fundación Nacional de la Ciencia (NSF) estadounidenses han dado su aprobación a esta propuesta, apoyada por otros centros de investigación como el Instituto de Astrofísica de Canarias (IAC).
"BigBOSS es sin duda el proyecto espectroscópico más ambicioso, sólido y masivo en el horizonte", valora el astrónomo del IAC Ismael Pérez Fournón. El IAC,  junto con otros centros de investigación del Consorcio Español para la participación en BigBOSS, ha apoyado y contribuido a preparar la propuesta a NOAO.
La clave para el éxito de BigBOSS será la construcción de un instrumento espectroscópico capaz de realizar de forma simultánea medidas de miles de objetos astronómicos. Este instrumento estará disponible para todos los usuarios en el telescopio Mayall, y se espera que los datos que se recojan puedan ser usados por los astrónomos de todo el mundo y el público en general. La colaboración BigBOSS buscará ahora financiación adicional para la fabricación de esta nueva instrumentación y el software asociado. Importantes contribuciones al proyecto vendrán de las 35 instituciones colaboradoras, tanto en EE UU, como en Francia, Reino Unido, China, España y Corea.
El investigador responsable de esta colaboración internacional, David Schlegel, cosmólogo en el  Laboratorio Nacional Lawrence Berkeley, en San Francisco (EEUU), afirma: "La aprobación del permiso para que BigBOSS use el telescopio Mayall es el primer paso hacia un ambicioso programa para explorar la expansión del universo en detalle".
Durante los cinco años en los que se repartirán las observaciones, el programa BigBOSS estudiará la luz de 50 millones de objetos astronómicos y determinará las localizaciones precisas de casi 20 millones de galaxias y cuásares, retrocediendo diez mil millones de años hasta la infancia del universo. El mapa BigBOSS abarcará diez veces el volumen del mejor mapa del universo hasta la fecha, que en este momento está siendo elaborado por el proyecto BOSS de la colaboración internacional Sloan Digital Sky Survey III (SDSS-III), cuyos primeros datos fueron publicados el pasado 11 de enero de forma pública en su sitio web http://www.sdss3.org/.El IAC es también miembro de pleno derecho de la colaboración internacional  SDSS-III , que incluye el proyecto BOSS (Baryon Oscillation Spectroscopic Survey).
¿Cómo se expande el universo?
La meta tanto de BOSS como de BigBOSS es examinar la historia de la expansión del universo y estudiar la naturaleza de la energía oscura, un componente del universo del que aún se sabe muy poco, y que sería responsable de la aceleración de dicha expansión.  De acuerdo con Schlegel, "Midiendo las oscilaciones acústicas bariónicas, BigBOSS estudiará la energía oscura y podrá incluso probar si la teoría general de la relatividad es válida. Además, el instrumento de BigBOSS le dará a la comunidad astronómica una oportunidad sin precedentes de hacer millones de observaciones para sus proyectos, aunque no estén vinculados a nuestro objetivo principal".
El trabajo se basa en el estudio del espectro de la luz y, en concreto, de su 'desplazamiento' o 'corrimiento' al rojo. La medición del desplazamiento al rojo de la luz en el espectro electromagnético de cada galaxia revela cuánto se ha expandido el universo desde que la luz abandonó esa galaxia. Un desplazamiento hacia el rojo de 0,5, por ejemplo, significa que el universo se ha expandido un 50% desde la emisión de la luz analizada. Comparar cómo varía la distribución de galaxias con el desplazamiento hacia el rojo en diferentes momentos de la historia del universo permitirá una calibración precisa de las oscilaciones de los bariones, la materia ordinaria, en el universo temprano, y por ende el modelo actual del universo. Estos datos también constituirán una fuente de información inédita para el estudio de la evolución de las galaxias, incluida la nuestra.
Más allá de la energía oscura y la medición de las oscilaciones de la materia cuando el universo era joven, la instrumentación de BigBOSS y las bases de datos públicas y accesibles que vaya generando el proyecto tendrán un gran impacto en la astronomía. El mayor estudio sobre las galaxias que se haya realizado nunca proporcionará nuevos datos para resolver cuestiones cosmológicas relevantes, como la estructura del universo, la masa de los neutrinos, la materia oscura y la geometría del espacio. BigBOSS también proporcionará nuevos y abundantes datos sobre los cuásares, permitirá avances en el estudio de las nebulosas planetarias, las estrellas gigantes y los sistemas binarios; y hará posibles muchos otros programas de investigación.
Contacto e información complementaria: Ismael Pérez Fournón (ipf [at] iac.es) 922 605 257 y   Carlos Allende Prieto (callende [at] iac.es) / 922 605 246. Investigadores del IAC.
Información Institucional
El Observatorio Nacional de Astronomía Óptica (NOAO) está dirigido por la Asociación de Universidades para la Investigación en Astronomía, un acuerdo  cooperativo con la Fundación Nacional de la Ciencia (NSF). La aprobación final del  plan de uso del telescopio Mayall, en Kitt Peak, Arizona (EE UU), por el programa BigBOSS va a suponer una importante inversión inicial de la NSF. La colaboración buscará financiación adicional de la NSF y el Departamento de Energía de los EE UU para instrumentación y software.
En España, las instituciones que colaboran en este programa internacional están actualmente formando el Consorcio Español para la participación en BigBOSS. En él se integrarán: el Instituto de Astrofísica de Canarias (IAC), el  Instituto de Astrofísica de Andalucía (CISC), el Instituto de Física Teorica (UAM/CSIC), el Institut de Ciències del Cosmos (ICC-UB) y el Observatori Astronòmic de la Universitat de Valencia (OA-UV).
Otras Instituciones pertenencientes a la colaboración BigBOSS y que han realizado contribuciones a la instrumentación: en China, Shanghai Astronomical Observatory y la University of Science and Technology; en Francia, Laboratoire AstroParticule Cosmologie de Paris, Centre de Physique des Particules de Marseille, Institut d'Astrophysique de Paris, Laboratoire d'Astrophysique de Marseille,  Commissariat à l'Énergie Atomique et aux Énergies Alternatives/Institut de Recherches sur les Lois Fondamentales de l'Univers de Saclay, y el Centre de Physique Théorique de l'Université de Marseille; en Corea, el Institute for the Early Universe at Ewha Womans Universe; en Reino Unido, University College London, University of Durham, University of Edinburgh y University of Portsmouth.
Instituciones pertenecientes a la colaboración en EE UU: U.S Department of Energy's Brookhaven National Laboratory, Fermi National Accelerator Laboratory, Lawrence Berkeley National Laboratory y SLAC National Accelerator Laboratory, Johns Hopkins University, New York University, National Optical Astronomy Observatory, Ohio State University, University of California at Berkeley, University of California at Santa Cruz, University of Kansas, University of Michigan, University of Pittsburgh, University of Virginia, University of Utah y Yale University.