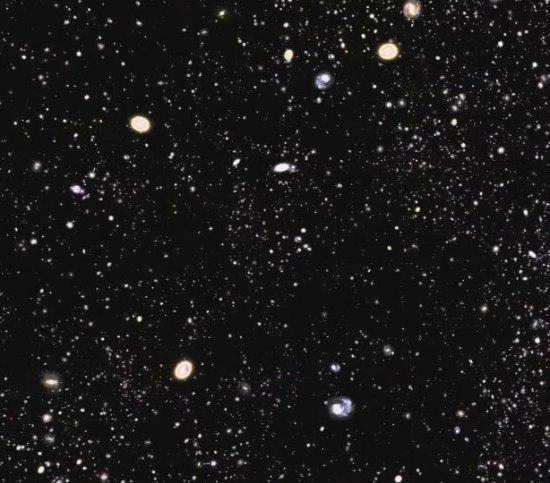 Después de realizar la mayor y más profunda fotografía del cielo nocturno captada hasta la fecha, tocaba ofrecer su versión 3D. La colaboración internacional Sloan Digital Sky Survey III (SDSS-III), que cuenta con la participación del Instituto de Astrofísica de Canarias (IAC), ha presentado hoy el mayor mapa tridimensional de galaxias masivas y agujeros negros distantes. Es el inicio de un catálogo cartográfico del universo que proporcionará datos relevantes sobre dos grandes misterios de la astrofísica actual: la materia oscura y, sobre todo, la energía oscura, esa fuerza invisible que hace que el universo se expanda.
La colaboración ha hecho público también un video ilustrativo (ver video) en el que se muestra un viaje simulado a través de parte del universo de galaxias observadas en el proyecto SDSS. La animación muestra cerca de 400.000 galaxias, en sus posiciones observadas y con imágenes reales de las mismas.
Como explica el investigador del IAC y profesor de la Universidad de La Laguna Ismael Pérez Fournon, este mapa es el resultado de la recolección e incorporación de nuevos datos a la fotografía que la colaboración compuso hace unos meses. Esta nueva información, basada en espectros obtenidos con el telescopio Sloan, ha permitido diseñar la pieza en 3D. "El mapa, al que puede acceder cualquier persona desde Internet, recopila el trabajo realizado por SDSS-III en sus dos primeros años de funcionamiento. Aunque los resultados son muy significativos, esperamos mucho más de este proyecto de seis años".
El astrofísico del IAC subraya el hecho de que los datos de SDSS-III no sólo serán útiles para la comunidad científica, sino también para educadores y aficionados a la astronomía. "La idea de la colaboración es crear un legado para el futuro, un catálogo de datos que pueda ser usado mucho tiempo después de que lo concluyamos. Es ciencia colaborativa en su máxima expresión", afirma.
El mapa 3D es la pieza clave de la novena publicación de datos que realiza la colaboración. Esta publicación, disponible en las páginas web http://www.sdss3.org/dr9 y http://skyserver.sdss3.org, incluye imágenes de 200 millones de galaxias y más de un millón de espectros. De estos, 540.000 corresponden a galaxias que, en su mayoría, no habían sido estudiadas previamente y que vemos tal y como eran cuando el universo tenía la mitad de su edad actual, que es aproximadamente 13.700 millones de años.
Los espectros ofrecen información relevante para la comunidad científica. Al analizar la luz que emiten las galaxias en diferentes longitudes de onda, los investigadores pueden comprobar cómo y cuánto se ha expandido el universo desde que la luz examinada abandonó la galaxia. Las imágenes combinadas con las citadas medidas sobre la expansión han permitido crear el mapa tridimensional.
Galaxias masivas y cuásares
El cartografiado en 3D incluye nueva información del proyecto BOSS, una parte de SDSS-III, que proyecta medir las posiciones de 1,5 millones de galaxias masivas mirando hacia atrás en el tiempo en los últimos 6.000 millones de años.
¿Por qué fijarse en galaxias masivas? Como explica el coordinador científico de SDSS-III en el IAC, Carlos Allende, el proyecto escogió estos objetos porque se ubican en los mismos lugares que otras galaxias más difíciles de detectar. "Mapear las galaxias grandes constituye una fórmula eficaz para mapear el resto de galaxias del universo lejano", apunta el científico.
BOSS también se plantea identificar en torno a 160.000 cuásares distribuidos por el universo en todas las épocas cósmicas. Según la opinión más asentada, podrían ser núcleos activos de galaxias o, lo que es lo mismo, agujeros negros gigantes alimentándose activamente de estrellas y de gas. Son, en cualquier caso, los objetos más brillantes del universo distante y su espectro ofrece una nueva forma de medir la distribución de materia en el universo, ya que muestran patrones que desvelan la materia gaseosa y oscura que hay entre cada cuásar y la Tierra.
Retroceder en la historia
En términos astrofísicos, mapear es en realidad retroceder en el tiempo. La información en 3D de SDSS-III recorre los últimos 6.000 millones años de vida del universo. "De esta manera, los científicos podemos calcular de forma aproximada cuánta materia oscura -aquella que no se ve porque no emite ni absorbe luz- hay en el universo. Y cuánta energía oscura está acelerando la expansión del universo", apunta Allende
Sin embargo, los nuevos datos de la colaboración no sólo pretenden desvelar los misterios del universo distante, sino también del entorno cósmico que rodea al ser humano: la Vía Láctea. Junto al mapa 3D, SDSS-III acaba de publicar estimaciones mejoradas sobre la temperatura y composición química de medio millón de estrellas de nuestra galaxia. Con ellas, señala el investigador del IAC, "podemos mirar hacia atrás y reconstruir la historia de formación de la Vía Láctea".
Más información
Contacto: Ismael Pérez Fournon (ipf [at] iac.es) y Carlos Allende Prieto (callende [at] iac.es)/ 922 605 200. Investigadores del IAC.
Nota de prensa oficial de SDSS-III: http://www.sdss3.org/press/dr9.php
Enlaces al video 'Un viaje a través del universo del SDSS':
Crédito video: Miguel A. Aragón (Johns Hopkins University), Mark SubbaRao (Adler Planetarium), Alex Szalay (Johns Hopkins University), Yushu Yao (Lawrence Berkeley National Laboratory, NERSC) y la colaboración SDSS-III.

Publicación que describe SDSS-III DR9:
Colaboración SDSS-III: Ahn C. P. et al. 2012, The Ninth Data Release of the Sloan Digital Sky Survey: First Spectroscopic Data from the SDSS-III Baryon Oscillation Spectroscopic Survey, enviado a la revista Astrophysical Journal Supplement Series y disponible en arXiv preprint server (1207.7137).
La colaboración SDSS-III (www.sdss3.org) agrupa instituciones de todo el mundo. Está financiada por la Fundación Alfred P. Sloan, las entidades participantes, la National Science Foundation y el Departamento de Energía de EEUU. La colaboración es gestionada por un consorcio que incluye, además de al IAC, a la Universidad de Arizona, el Brookhaven National Laboratory, la Universidad de Cambridge, la Universidad de Carnegie Mellon, la Universidad de Florida, los Grupos de Participación Brasileño, Francés, Alemán y Español, el Grupo de Participación de las universidades Michigan State, Notre Dame y JINA, la Universidad Johns Hopkins, el Lawrence Berkeley National Laboratory, el Max Planck Institute for Astrophysics, la Universidad Estatal de Nuevo México, la Universidad de Nueva York, la Universidad de Ohio, la Universidad de Penn State, la Universidad de Portsmouth, la Universidad de Princeton, la Universidad de Tokio, la Universidad de Utah, la Universidad Vanderbilt, la Universidad de Virginia, la Universidad de Washington y la Universidad de Yale.