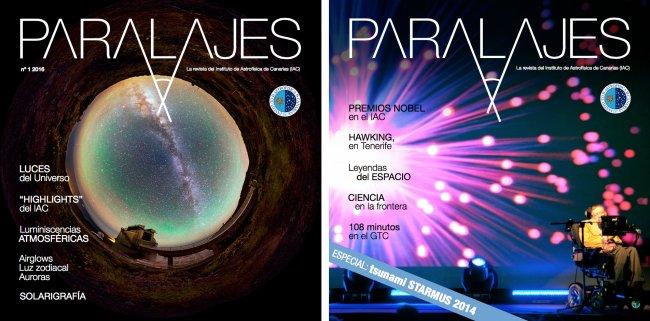 Paralajes is the new outreach review from the Instituto de Astrofísica de Canarias, which is published both on paper and digitally, intended as a supplement to the information and outreach that this center does for other channels, including the website and social networks. Edited by the Communication and Scientific Culture Unit (UC3, this publication is just one of the actions that the IAC carried out to fulfill one of its aims: the dissemination of Science.
Why this name? Paralaje (in English "parallax"), is a Greek term, which means changes and which is used in Astronomy to mean the change in the apparent angular position of a star in the sky produced by a change in the position of the observe, which should enable us to measure the distance to the star if we know the distance betweeen the two observing positions. Although this method is limited to nearby stars it was essentially the only method used until the American astronomer Henrietta Leavitt produced, at the beginning of the XX century a yardstick for measuring large distances in the universe, (the method known as the method of standard candles), which has been extended progressively as time has gone on.
The content of Paralajes tends to be monograph principally, with a common denominator, but with a multifaceted look at the issues and bringing together different perspectives.
Lights of the Universe
In 2015 we celebrated the International Year of Light, which is the "messenger" of astrophysical phenomena, and it was also the 30th anniversary of the official inauguration of the Headquarters of the IAC and of the Canary Island Observatories. This caused the IAC to organize, in Tenerife and La Palma, the exhibition "Lights of the Universe". The first edition of Paralajes pays tribute to these past events, with articles on a variety of luminous phenomena in the Universe: eclipses, airglow, polar aurorae, the zodiacal light, among other, and about the main science highlights of the IAC during the past 30 years, and about solarigraphy, which "freezes" the tracks of the Sun in the sky.
Paralajes magazine is accompanied, on this occasion, by a special supplement dedicated to the great science outreach event, the second STARMUS festival, which was celebrated in September 2014 with the collaboration of the IAC and of the Gran Telescopio CANARIAS. That edition of STARMUS caused a veritable tsunami in Tenerife and La Palma, as will the third edition (from 27th June to 2nd July 2016), given the tremendous level of the invited speakers who included the Nobel Laureates Robert Wilson, John Mather, and Harold Kroto, as well as the cosmologist and physicist Stephen Hawking and the cosmonaut Alexei Leonov. This special edition includes interviews with some of these invited speakers to the second edition of STARMUS and other related outreach articles.
The digital edition of Paralajes is at:
http://www.iac.es/divulgacion.php?op1=19&op2=52&lang=en