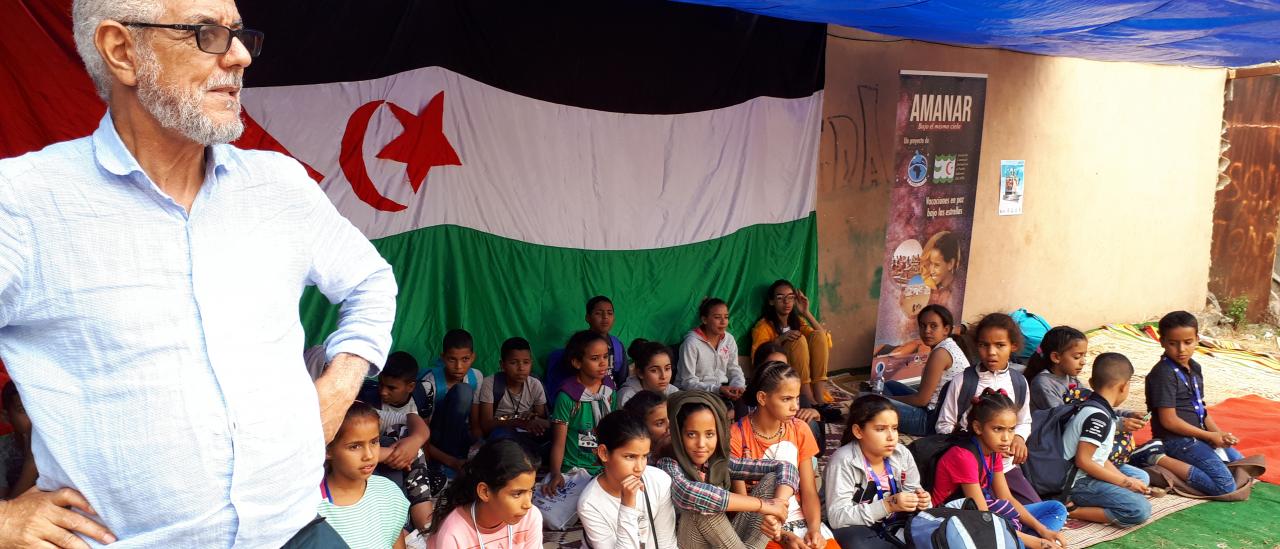 "Amanar: under the same sky" is an initiative by GalileoMobile in collaboration with the Canary Association for friendship with the Saharawi People (ACAPS), funded by the International Astronomical Union (IAU), via its Office of Astronomy for Development and its centenary celebrations, and by the Instituto de Astrofísica de Canarias (IAC). On Tuesday 15thOctober the second part of the project will begin, in which an international team of astronomers and teachers will travel to the refugee camps in Tindouf to engage in outreach activity with the Saharaui students and teachers-
Durint the stay in the Saharaui refugee camps in Tindouf the team will visit eight educational centres, and will make astronomical observations, and give training courses to the teachers on scientific subjects, and on the use of astronomy as a didactic tool. Each participating school with receive a donated kit of telescopes and educational resources, given by the Office for Astronomical Outreach of the IAU, the international Virgo collaboration, the Cherenkov Array of Telescopes (CTA), the Gran Telescopio Canarias (GTC), the Instituto de Astrofísica de Canarias (IAC) and Universe Awareness.
Part of the educational material has been translated into arabic by the Algerian astronomical association Amnir, and by the researcher Sarah Massaklkhi, of the Higher Council for Scientific Research, to be easier to use by the teachers.
The project will also study the Saharaui astronomical traditions, and their own knowledge of the sky, in order to record it and publicize it via a number of audiovisual products. The work of the project will be documented by the brazilian cineasts Felipe Carrelli, and Demétrio Rodrigues.
The astrophysicists and teachers in the GalileoMobile programme who will travel to Tindouf are: Jorge Rivero González (International Astronomical Union and University of Leiden), Fabio del Sordo (University of Crete) and Diego Torres (Brazilian Centre for Scientific Research) 
Those participating from the Instituto de Astrofísica de Canarias are Nayra Rodríguez Eugenio, and Sandra Benítez Herrera, who is also a member of GalileoMobile and coordinator of the project.
Also the researcher in archaeoastronomy and ethnoastronomy Andrea Rodríguez Antón, and the delegate in the Canaries of the Polisario Front, Hamdi Ahmed Aomar, will accompany the team during their visit to the camps.
Previous press release:
https://www.iac.es/es/divulgacion/noticias/amanar-bajo-el-mismo-cielo
Photo 1. A group of saharaui children who spent the summer in Tenerife in the programme Vacations in Peace, together with the delegate of the Polisario Front, in the Canaries, Hamdi Ahmed Aomar. Credit: Demétrio Rodrigues.
To know more about the project visit the website:
https://www.galileomobile.org/amanar
Promotional video to announce the initiative
Contact:
Sandra Benitez, coordinator of the project: sbenitez [at] iac.es
Tel. ‎+213 664 85 65 99