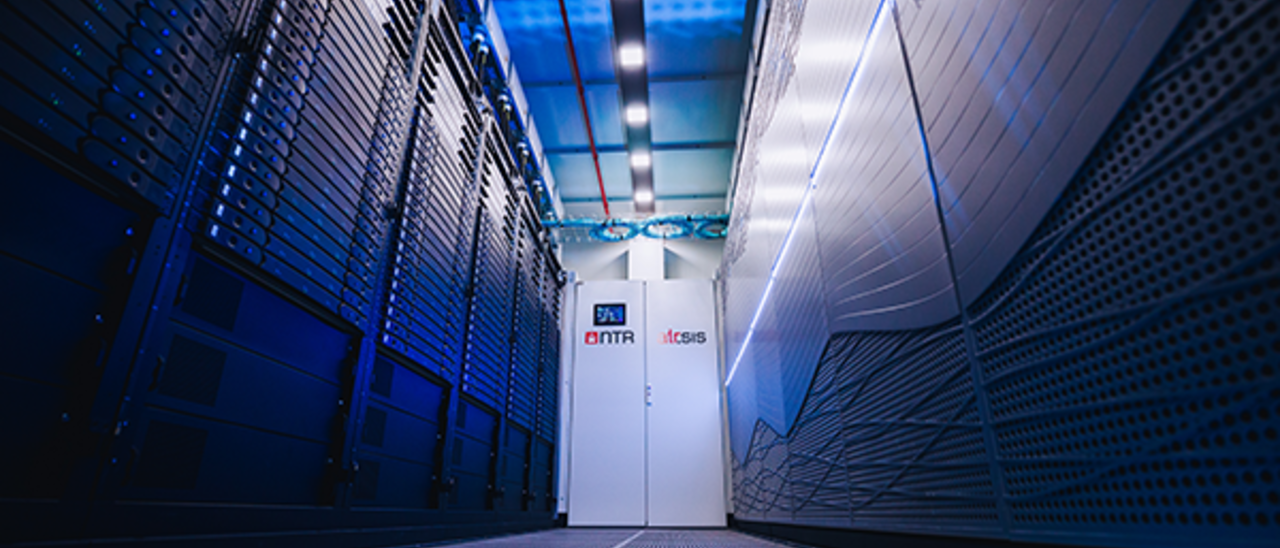 General

Description

Instituto Astrofísica de Canarias is a member of the National Center of Competences in High Performance Computing/Supercomputing (HPC), High Performance Data Analysis (HPDA) and Artificial Intelligence (AI) through the European project, EuroCC.

The EuroCC project promotes the development of competences in HPC, HPDA and AI in the academic, the public sector and enterprises (especially SME, Small and Medium-sized Enterprises). To do that, the project executes several actions. First, the state-of-the-art analysis will reveal the existing gaps between the current situation and the expected one, taking into consideration the level of competitiveness of the Spanish economy. Second,  the detected gaps should be filled either existing sources of competencies or by defining new product or services. Third, designing and executing new services and products to fill the competence gaps for each of the target audiences.

This project has received funding from the European High-Performance Computing Joint Undertaking (JU) under grant agreement No 951732. The JU receives support from the European Union's Horizon 2020 research and innovation programme and Germany, Bulgaria, Austria, Croatia, Cyprus, the Czech Republic, Denmark, Estonia, Finland, Greece, Hungary, Ireland, Italy, Lithuania, Latvia, Poland, Portugal, Romania, Slovenia, Spain, Sweden, the United Kingdom, France, the Netherlands, Belgium, Luxembourg, Slovakia, Norway, Switzerland, Turkey, Republic of North Macedonia, Iceland, Montenegro.

 
Members
Results

The IAC has given several Webinars in the series of SMACK: Short Meetings on Astro Computing Knowledge. The titles of the webinars are:

Git version control system basics

speaker: Dr. Angel de Vicente
date: November 2020

Intermediate Git

speaker: Dr. Ángel de Vicente
date: November 2020

Computing at the IAC

speakers: Dr. Carlos Allende, and PhD students: Ana Esteban, Isaac Alonso and Juan Carlos Trelles
date: December 2020

Advanced Git

speaker: Dr. Ángel de Vicente
date: January 2021

The Python Ecosystem for Astronomy

speaker: D. Jorge A. Pérez Prieto
date: March 2021

 Data analysis with Python: Pandas library

speaker: Dr. Diego Tuccillo 
date: April 2021

 Introduction to LaTeX

speaker: Dr. Nicola Caon
date: July 2021

 Do it faster! Simple ways to use all those cores (and GPUs) efficiently.

speakers: Dr. Andrea Negri, and Dr. Carlos Allende
date: November 2021

Introduction to Containers (Docker and Singularity)

speakers: Dr. Angel de Vicente, Dr. Mohammad Akhlaghi
date December 2021

Make, a powerful tool to manage your projects

speakers: Drs. Zahra Sharbaf (IAC) and Sepideh Eskandarlou (CEFCA)
date: February 1, 2022

Programming parallel workloads with PyCOMPSs in La Palma

speakers Dr. Rosa Badia, Dr. Javier Conejero (BSC)
date: May 10, 2022

Basic LaTeX (hands-on) 1

speakers Drs. Sepideh Eskandarlou, Dr. Mohammad Akhlaghi (CEFCA)
date: June 7, 2022

Basic LaTeX (hands-on) 2

speakers Drs. Sepideh Eskandarlou, Dr. Mohammad Akhlaghi (CEFCA)
date: June 21, 2022
Scientific activity

Publications related

No related publications were found.

Talks related

No related talks were found.

Conferences related

No related conferences were found.
News