Date and time
18 Sep 2019 - 12:30 Europe/London
Description
Since first light in 2004 the 2.0m Liverpool Telescope has been the world's largest
fully robotic telescope. It specialises in time domain astrophysics and has
a dedicated instrument suite giving imagining, spectroscopic and
polarimetric capabilities. In this seminar I will describe how the robotic
operation of the telescope works and give examples of the science
accomplished in areas such as gamma ray burst follow-up and supernova
classification. I will also present our plans to develop a new 4.0m robotic telescope
in collaboration with colleagues at IAC which will deliver faster reaction and
increased sensitivity.
Related projects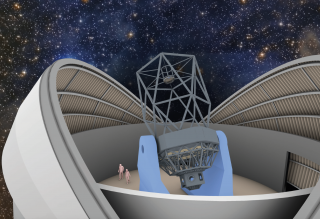 IACTEC Large Telescopes: New Robotic Telescope - NRT
The NRT (New Robotic Telescope) is a project to design and build a 4-meter telescope within five years, which from the ORM will operate in a totally autonomous and robotic way. This form of operation will make it the largest robotic telescope in the world.
Carlos Manuel
Gutiérrez de La Cruz