N. Arteaga-Marrero; A. Hernández; E. Villa; S. González-Pérez; C. Luque; J. Ruiz-Alzola
Bibliographical reference
Description
Thermography enables non-invasive, accessible, and easily repeated foot temperature measurements for diabetic patients, promoting early detection and regular monitoring protocols, that limit the incidence of disabling conditions associated with diabetic foot disorders. The establishment of this application into standard diabetic care protocols requires to overcome technical issues, particularly the foot sole segmentation. In this work we implemented and evaluated several segmentation approaches which include conventional and Deep Learning methods. Multimodal images, constituted by registered visual-light, infrared and depth images, were acquired for 37 healthy subjects. The segmentation methods explored were based on both visual-light as well as infrared images, and optimization was achieved using the spatial information provided by the depth images. Furthermore, a ground truth was established from the manual segmentation performed by two independent researchers. Overall, the performance level of all the implemented approaches was satisfactory. Although the best performance, in terms of spatial overlap, accuracy, and precision, was found for the Skin and U-Net approaches optimized by the spatial information. However, the robustness of the U-Net approach is preferred.
Related projects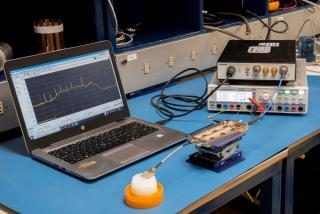 IACTEC Medical Technology
Development of electro-optical devices implementing technology used in Astrophysics for medical technology.