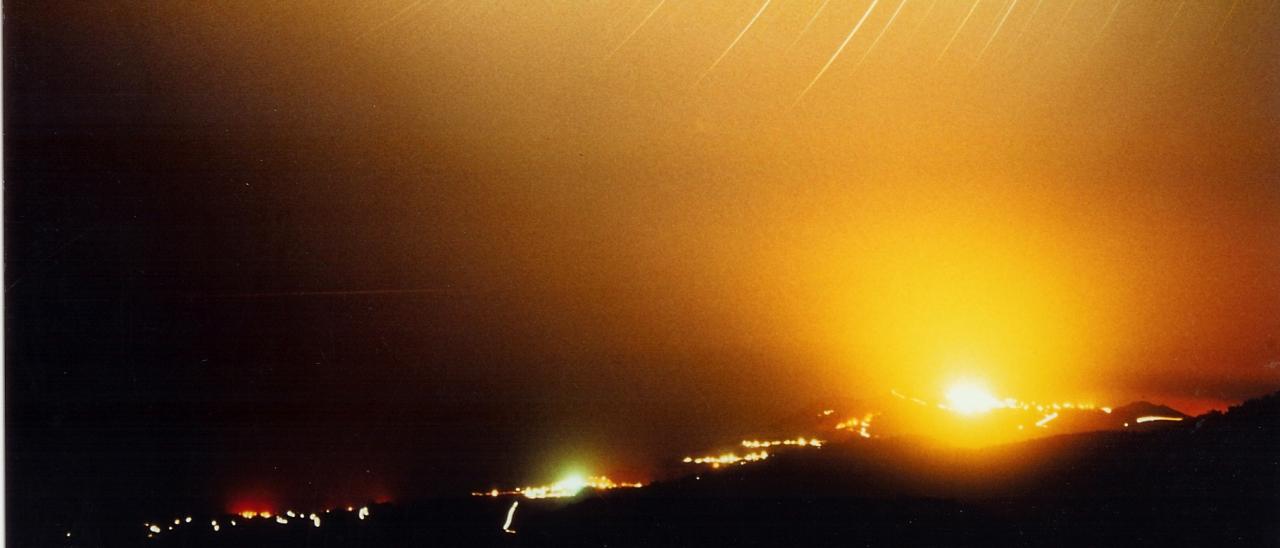 Light pollution is a generic term for all of the undesirable effects of artificial light. It is also defined as the introduction, directly or indirectly, of artificial light in the environment.

One of the most damaging effects for astronomy is the sky glow brightness in the night caused by artificial light reflecting off gases and particles in the air. Unsuitable light fixtures shining upwards or outside the area they are intended to illuminate, excessive lighting levels and blue radition are responsible.

Any lighting scheme within the area regulated by the Sky Law must comply with regulations.

The most obvious benefits are:
Energy savings

Road safety

Environmental improvements

Improved views of the night sky
How can I get involved?  
By understanding the regulations that must be complied with and reporting any infringements to the local authorities.
Advantages and benefits 
If you are aweared  with us, you will help us to:
Reduce energy consumption and, indirectly, CO2, NOX, SO2 and other particle emissions. Intelligent use of the light.

Reduce night-time disruption of natural habitats (of animals, plants and ecological processes). Protect nocturnal birds like the Canaries shearwater.

Reduce glare, improving vehicle and pedestrian safety.

Prevent glare to air and sea traffic.

Preventing nuisance to neighbours, intrusive light.

Making astronomical observation possible, for both professional astronomers and amateurs.

Protecting the darkness of the night in accordance with the Universal Declaration on the Rights of Future Generations (UNESCO): "Future generations have the right to inherit an unharmed and unpolluted earth, and this includes the right to a pure sky." Declaración de La Laguna (February 1994, Cousteau-UNESCO group).
In Tenerife and La Palma a series of regulations have been established to reduce light pollution. The following graphic describes this rules.
A luminaire is a device where the lamp, reflectors and attached equipment, are placed. From the point of view of light pollution, we can classify in pollutants and non-polluting depending on the emission of light towards the horizon and upper hemisphere.
| | |
| --- | --- |
| | |
| Non polluting | Polluting |
The IAC has a list of IAC certified lights included in the technical document: List of luminaires and light bulbs
| | |
| --- | --- |
| | |
| Lantern adaptation | Luminaire adaptation |
A floodlight is a specific luminaire for lighting large areas and sports facilities or accentuation. Asymmetrical projectors are the only ones suitable for lighting large areas.
Asymmetrical floodlights are preferable to symmetrical floodlights: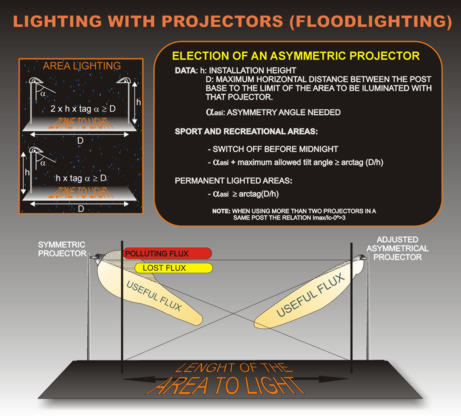 Asymmetrical floodlights are preferable to symmetrical floodlights:
The use of asymmetrical floodlights wherever possible will deliver a 25% increase in lighting levels and coverage compared to symmetrical floodlights with the same light flux, as they project all of their light onto the ground.
Where poor asymmetrical lights must be re-used, we recommend visors lights, which do not emit light onto the horizon. In new installations, projectors with the appropriate asymmetry should be chosen. They also have the advantage of not projecting light that could disturb users of the own installation (glear) or neighbouring residents (light trespass).
Light bulbs are the sources of light, usually by transforming electrical energy into light energy. The most damaging lamps for astronomy are the ones that emit in the blue and ultraviolet, because these wavelengths are those that are more heavily scattered by the atmosphere and have no lighting utility.
The least damaging bulbs for Astronomy are the most energy-efficient available. The most damaging are those that emit ultraviolet light, as light at these wavelengths is the most strongly dispersed in the atmosphere and has no value in terms of lighting.
The least polluting lights are low pressure sodium lamps as they emit almost all of their light in a single line of the spectrum, leaving the rest undisturbed. They are also the most energy efficient, consuming 5 times less than incandescent bulbs, 2.2 times less than mercury and 1.5 times less than high pressure sodium and fluorescent bulbs. Unfortunately they are in disuse due to their monochromatic light.
Most commonly-used bulbs:
Exterior lighting lamps: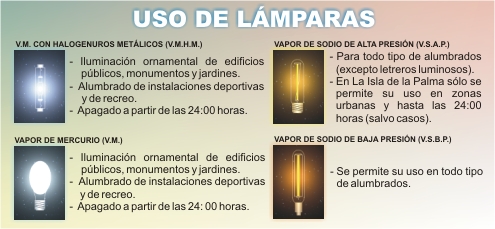 Emission spectra of these bulbs: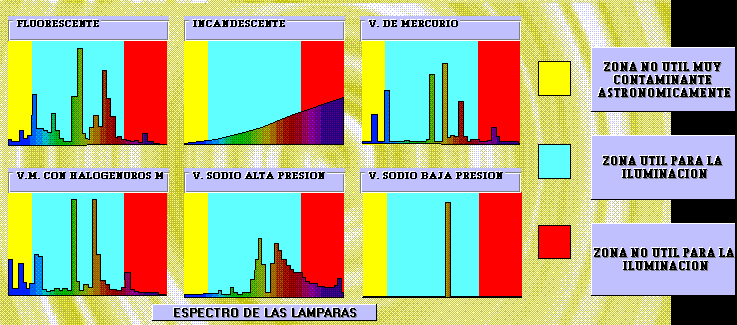 In recent years have appeared in the market of outdoor lighting led bulbs as a new lamp for lighting. The least harmful is the amber or white LEDs with amber filters, equivalent to the old discarge sodium lamps. Although there are also white ledes, their use is restricted exclusively  to pedestrian areas and prohibited those who have too blue. It is recommended to use white LEDs with a correlated color temperature less than 2700ºK due to its lower blue light content.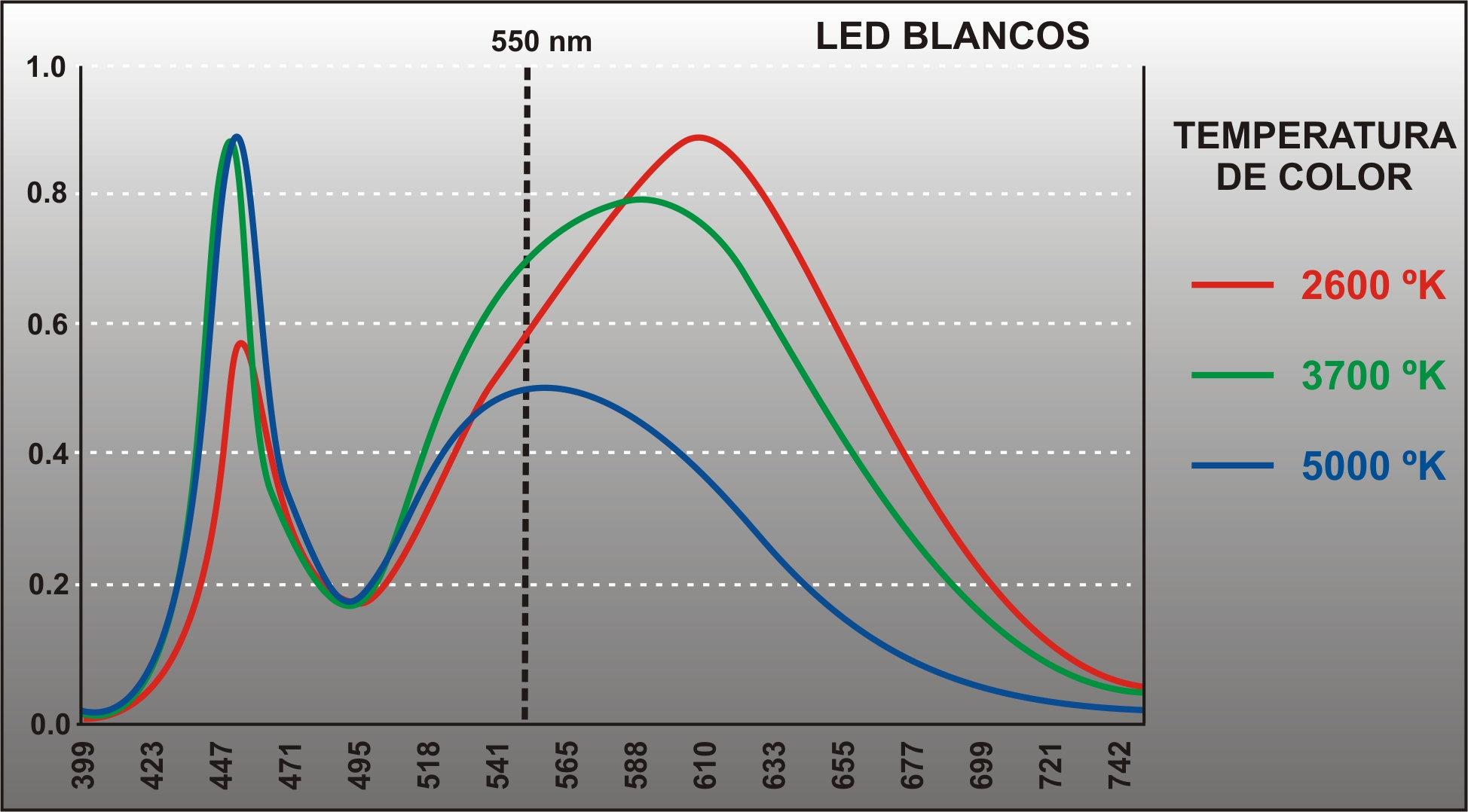 In the IAC, four types of LEDs have been classified according to their emission spectrum:

- IAC AMBER PURE LED: monochromatic as the LPS but not very efficient.

- IAC AMBER LED: similar to HPSP, with good efficiency and almost zero emission in the blue zone of the spectrum

-IAC SUPER WARM WHITE LED: very warm white light (around 2200ºK) with low blue content, to use on pedestrian areas in the urban centers of the island of La Palma.

- IAC WARM WHITE LED: warm white light (around 2700ºK) with low blue content, to use in pedestrian areas of the island of Tenerife.
IAC AMBER PURE LED:
: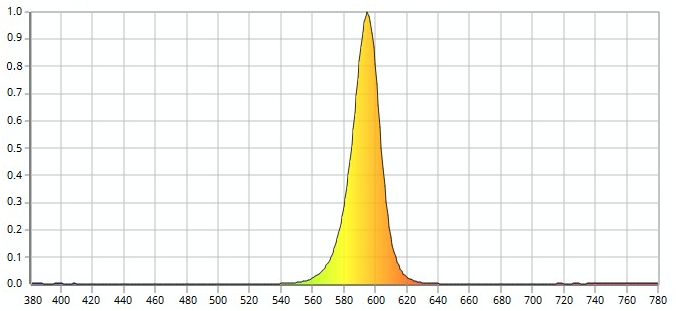 IAC AMBER LED (WHITE LED PLUS AMBER FILTER):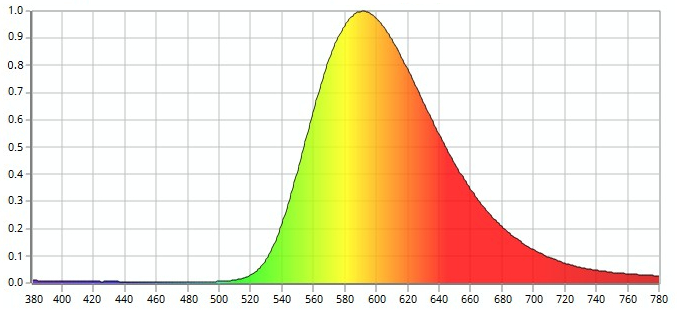 IAC AMBER LED (PC AMBER):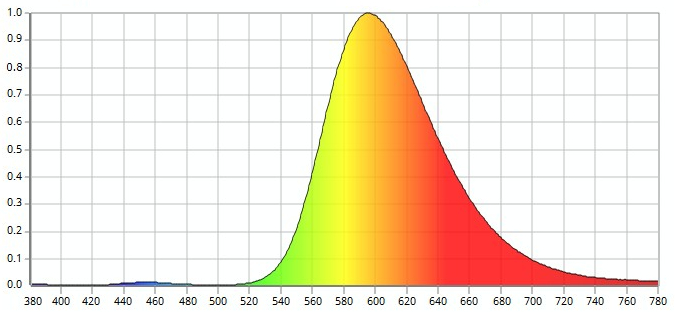 IAC SUPER WARM WHITE LED: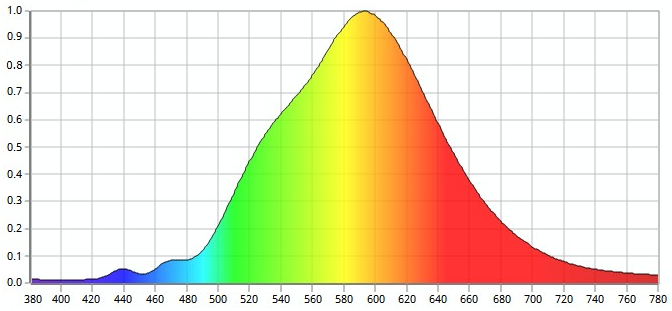 IAC WARM WHITE LED: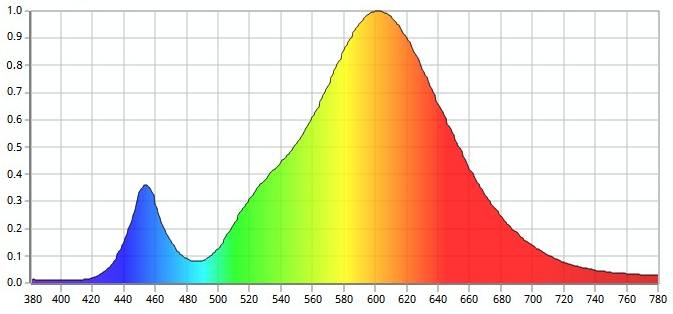 Reducing light pollution cuts glare, improving road safety.
The following images illustrate lighting schemes before and after adaptation: