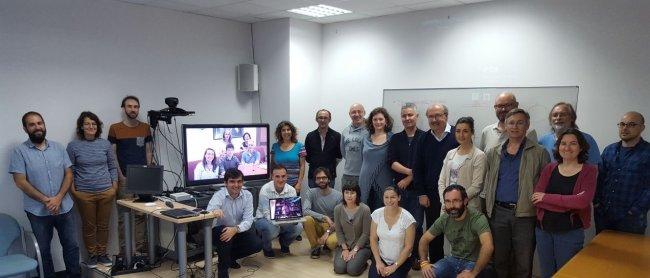 Los días 12 y 13 de junio ha tenido lugar, en el Instituto de Física de Cantabria (IFCA), en Santander, la XIII Reunión del Consorcio QUIJOTE, donde se ha llevado a cabo la revisión científica asociada al hito de finalización del proyecto CONSOLIDER "Exploring the Physics of Inflation" (EPI), que ha financiado la construcción del Segundo Telescopio QUIJOTE, parte del segundo instrumento TGI (30GHz) y el tercer instrumento FGI (40 GHz).
El Experimento QUIJOTE (Q-U-I JOint Tenerife), instalado en el Observatorio del Teide, en Tenerife, tiene como objetivo detectar las huellas del nacimiento del Universo en forma de ondas gravitacionales generadas una fracción de segundo después del Big Bang. En concreto pretende caracterizar la polarización del Fondo Cósmico de Microondas y otros procesos físicos de emisión de nuestra galaxia o de origen extragaláctico usando para ello seis bandas de observación en frecuencias comprendidas en el rango 10-40 GHz y en escalas angulares mayores de 1 grado. El experimento está en operación desde noviembre de 2012 con el primer telescopio y su primer instrumento, el MFI, que opera entre 10 y 20 GHz, y es una colaboración entre el Instituto de Astrofísica de Canarias (IAC), el IFCA y las universidades de Cantabria, Manchester y Cambridge.
Mañana, 14 de junio, se celebrará en el mismo lugar la reunión del proyecto RADIOFOREGROUNDS, cuyo objetivo es combinar los nueve mapas de todo el cielo de la misión Planck (30-857 GHz), de la Agencia Europea del Espacio, y los cuatro mapas del hemisferio norte de QUIJOTE MFI (10-20GHz), para proporcionar la mejor caracterización posible de los procesos físicos que producen emisión polarizada en microondas, junto con una descripción exhaustiva de la señal de intensidad. Esta información constituye un legado científico de referencia para futuros experimentos de microondas en Tierra o bien misiones espaciales que pretendan explorar la física de la Inflación.