The representatives of the international committee of the institutions which are members of the Observatories, run by the Instituto de Astrofísica de Canarias (IAC) in La Palma and Tenerife met on the 15th and 16th November in La Laguna. In this biennial meeting which was held on the premises of the Office of International Relations of the University of La Laguna, reports were presented on the state of the new and future telescopes in the Canary Observatories, such as the Cherenkov Telescope Array (CTA), ASTRI and the Thirty Meter Telescope (TMT). In addition there was discussion about various aspects of the working of the two observatories, and the budget for next year was approved.
During the day the European Space Agency (ESA) presented a summary of the main technological and scientific achievements of its collaboration with the IAC during the past 25 year. There was also a discussion about the impact of the megaconstellations of satellites on the astronomical observatories, on the installation of dust detectors at the Canary Observatories -the result of a signed agreement with AEMET-, and about the sustainability plan for the observatories, specifically with respect to the generation of renewable energy using new solar photovoltaic installations.
At this meeting those present also gave thanks for the work and for his commitment to the Canary Observatories, of Professor Ennio Poretti, director of the Telescopio Nazionale Galileo (TNG), who is retiring after many years devoted to astrophysical research.
The International Scientific Committee (CCI, for its initials in Spanish) is the operational entity that those institutions who are members of the observatories can participate effectively in the decision making process affecting the operation of the telescopes.
Related news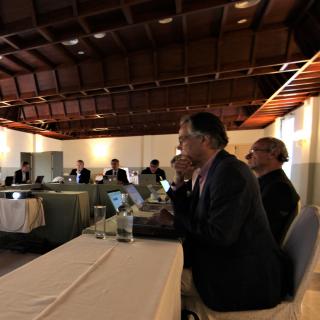 It took place on May 24th and 25th in the meeting room of the Parador in Breña Baja A large group of representatives of the various institutions which take part in the International Scientific Committee met face to face on the Island of La Palma last Tuesday and Wednesday, 24th and 25tnh of May, and they were joined remotely by further participants on-line. In this meeting of the CCI (International Scientific Committee Spanish initials), they discussed, among other matters, the most recent scientific achievements at the Canary Observatories, as well as the status of new projects. In addition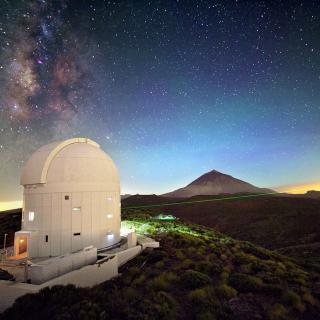 The workshop "25 years of cooperation in optical technologies and future trends", will take place next Monday, November 14th, at the Headquarters of the Instituto de Astrofísica de Canarias (IAC) with scientific and engineering staff from the IAC, and from ESTEC, the European Space Technology and Research Centre of the European Space Agency (ESA). At the meeting, the two institutions will present their work on optomechanical engineering and set out the basis for further collaboration. They will discuss, among other subjects, thermal techniques and optical instrumentation developments, cryo