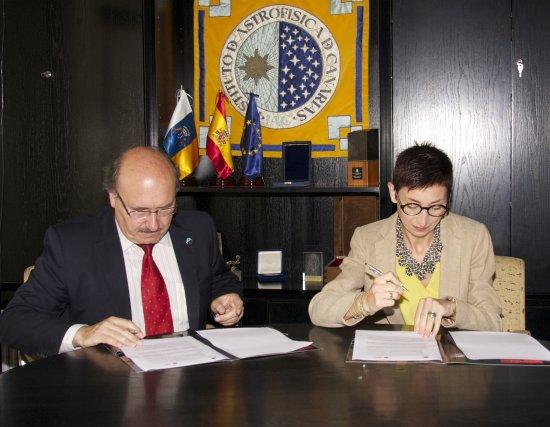 On Monday 23rd June the "Universdidad Europea de Canarias" and the "Instituto de Astrofísica de Canarias (IAC) signed a framework agreement under which the two institutions agree to undertake a set of actions in training, the exchange of students, and activities of consultancy and research, among other initiatives.
The agreement was signed by the Rector of the Universidad Europea de Canarias, Isabel Fernández, and the Director of the IAC, Rafael Rebolo, at the IAC Headquarters in La Laguna. The Rector stressed the importance of collaborating with an institution such as the IAC, because the students will be able to undertake practical work, and at the same time help to spread information about this research centre. Sge also commented that there will be "programmes to train engineers", and added that within this agreement, which will last for one year, but can be extended, " there will no doubt emerge new lines of collaboration in the future".
Rafael Rebolo stated that the IAC considered it a priority to "collaborate with the three higher education institutions within the islands, and the Universidad Europea de Canarias is one of these". The main objective is to help train young people by integrating them into existing teams within the IAC who have recognized experience. The IAC thanks this university for its goodwill, and for its efforts in transmitting to society in general the value of the IAC as a scientific and technological motor; in the longer term we can look forward to joint actions in training at the highest level.
The agreement will facilitate the joint organization of courses, conferences, seminars, and other types of traininng acitivities in themes of mutual interes for the Universidad Europea de Canarias and the Instituto de Astrofísica. The two institutions will interchange information and documents, will collaborate in the diffusion and communication of their activities, and will be able to carry out studies and projects jointly, which includes sharing finance, if this is relevant.
In addition the Rector of the University gave some details about the project The design and developemnt of a campaign to spread information about the socioeconomica impact of the Instituto de Astrofísica de Canarias,   which is being developed with students if that institution.
The Universidad Europea de Canarias, one of the three centres of the Universidad Europea, is the first private higher education institution in the Islands. At the present time it issues degrees adapted to the needs of companies in the areas of social science and communication, architecture and engineering, and health sciences, which make their students marketable, and give them an international character.
More information and contacts:
Doris Martínez (Comunicación) 922 271 591 / 652 592 075 /

prensa

[at]

universidadeuropea.es