E. Villa; N. Arteaga-Marrero; J. González-Fernández; J. Ruiz-Alzola
Bibliographical reference
Description
A precise and thorough methodology is presented for the design and fabrication of bimodal phantoms to be used in medical microwave and ultrasound applications. Dielectric and acoustic properties of human soft tissues were simultaneously mimicked. The phantoms were fabricated using polyvinyl alcohol cryogel (PVA-C) as gelling agent at a 10% concentration. Sucrose was employed to control the dielectric properties in the microwave spectrum, whereas cellulose was used as acoustic scatterer for ultrasound. For the dielectric properties at microwaves, a mathematical model was extracted to calculate the complex permittivity of the desired mimicked tissues in the frequency range from 500 MHz to 20 GHz. This model, dependent on frequency and sucrose concentration, was in good agreement with the reference Cole–Cole model. Regarding the acoustic properties, the speed of sound and attenuation coefficient were employed for validation. In both cases, the experimental data were consistent with the corresponding theoretical values for soft tissues. The characterization of these PVA-C phantoms demonstrated a significant performance for simultaneous microwave and ultrasound operation. In conclusion, PVA-C has been validated as gelling agent for the fabrication of complex multimodal phantoms that mimic soft tissues providing a unique tool to be used in a range of clinical applications.
Related projects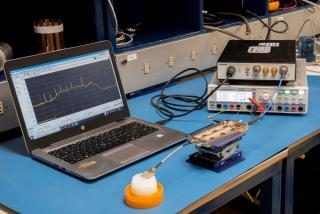 IACTEC Medical Technology
Development of electro-optical devices implementing technology used in Astrophysics for medical technology.