E. Villa; N. Arteaga-Marrero; J. Ruiz-Alzola
Bibliographical reference
Description
Thermal imaging is a promising technology in the medical field. Recent developments in low-cost infrared (IR) sensors, compatible with smartphones, provide competitive advantages for home-monitoring applications. However, these sensors present reduced capabilities compared to more expensive high-end devices. In this work, the characterization of thermal cameras is described and carried out. This characterization includes non-uniformity (NU) effects and correction as well as the thermal cameras' dependence on room temperature, noise-equivalent temperature difference (NETD), and response curve stability with temperature. Results show that low-cost thermal cameras offer good performance, especially when used in temperature-controlled environments, providing evidence of the suitability of such sensors for medical applications, particularly in the assessment of diabetic foot ulcers on which we focused this study.
Related projects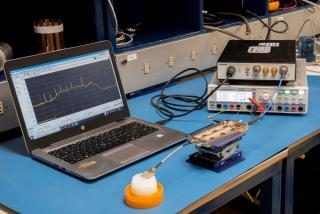 IACTEC Medical Technology
Development of electro-optical devices implementing technology used in Astrophysics for medical technology.