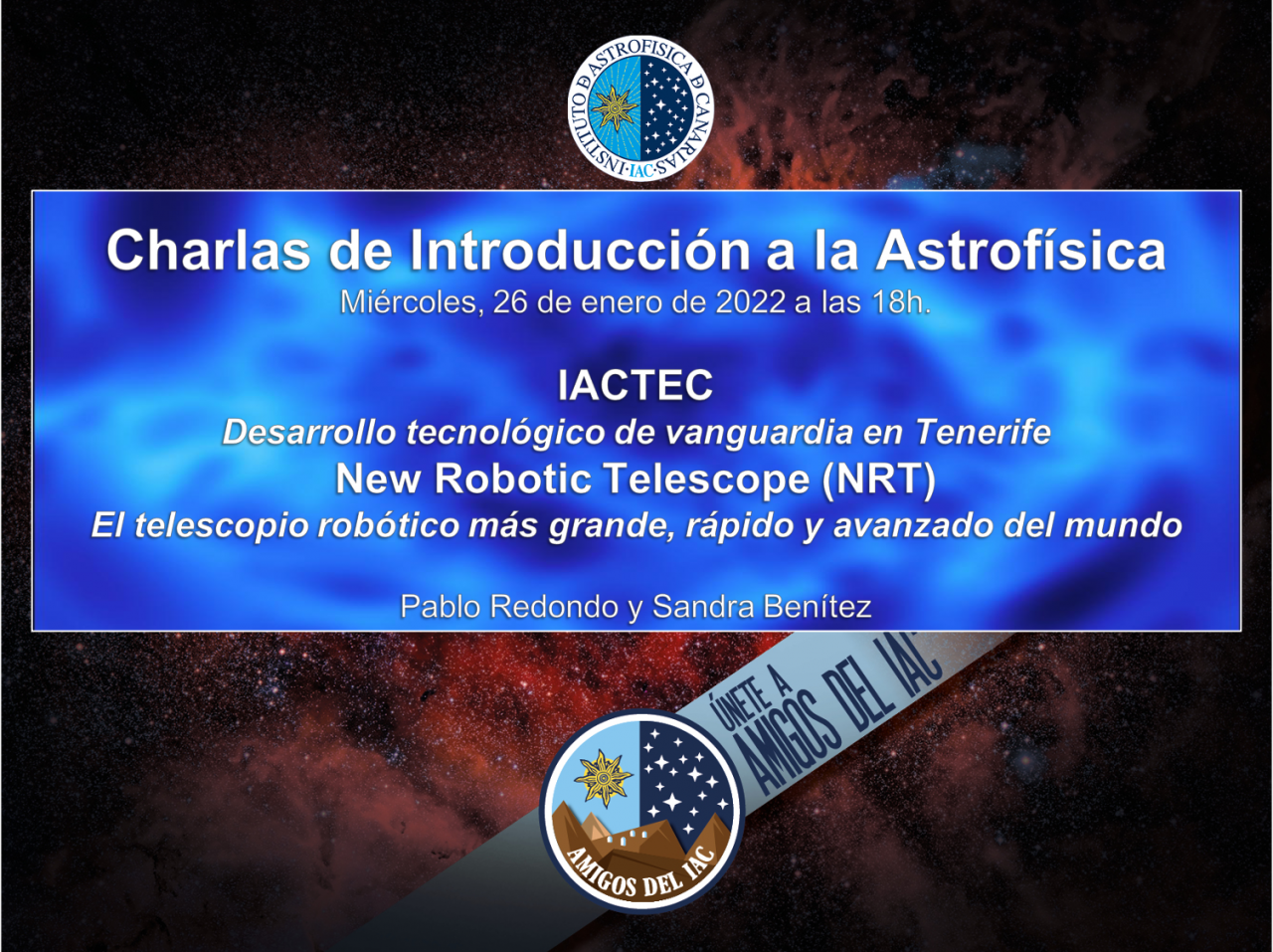 Description
Charlas de Introducción a la Astrofísica
El próximo miércoles, 26 de enero de 2022, a las 18:00 (hora de Canarias) tendrá lugar la quinta de las jornadas de la actividad "Charlas de Introducción a la Astrofísica", que será emitida por ZOOM para los #AmigosdelIAC
La programación de las actividades se encuentra disponible en la página del programa: https://www.iac.es/es/iac-friends
Durante esta quinta jornada, Pablo Redondo,Responsable Técnico de IACTEC, Espacio de Colaboración Tecnológico Empresarial del Instituto de Astrofísica de Canarias (IAC), y Sandra Benítez, Astrofísica y Divulgadora de la Unidad de Comunicación y Cultura Científica (UC3) del IAC, hablarán sobre "IACTEC, desarrollo tecnológico de vanguardia en Tenerife" y sobre el "New Robotic Telescope (NRT), el telescopio robótico más grande, rápido y avanzado del mundo ". El encuentro consistirá en una charla corta y, después, se abrirá un turno de preguntas donde podrán interactuar con los ponentes y consultar sus dudas.
Si te interesa la labor del Instituto de Astrofísica de Canarias y aún no eres "Amigo del IAC", puedes unirte a nuestro Programa respondiendo a una breve encuesta para conocer mejor tus intereses y expectativas: https://cutt.ly/bI0Jlvo
Con el envío de esta encuesta, tendrás acceso a diversas actividades organizadas por el IAC bajo el Programa "Amigos del IAC" sin necesidad de que realices ninguna aportación.
Esta actividad será emitida por ZOOM, en exclusiva para sus miembros, y grabada para ser posteriormente incorporada a nuestros canales de comunicación. El día previo a esta actividad se enviará un mail con el enlace para conectaros ala reunión por ZOOM.
Si quieres más información sobre actividades y modalidades de colaboración, puedes encontrarla en: https://www.iac.es/es/amigos-del-iac
Related projects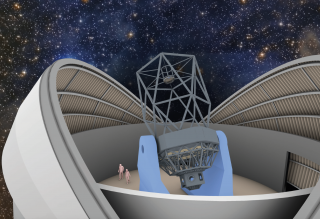 IACTEC Large Telescopes: New Robotic Telescope - NRT
The NRT (New Robotic Telescope) is a project to design and build a 4-meter telescope within five years, which from the ORM will operate in a totally autonomous and robotic way. This form of operation will make it the largest robotic telescope in the world.
Carlos Manuel
Gutiérrez de La Cruz