Human resources programme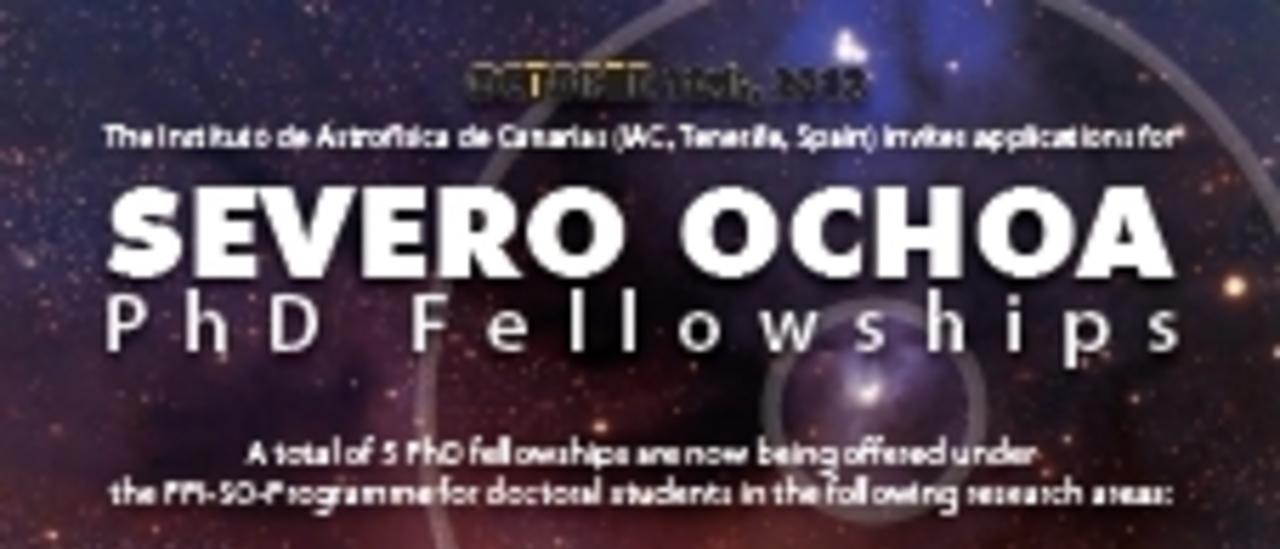 SO PhD grants
Annually, as part of the long term program to form and attract young talent, the Severo Ochoa project invites applications for PhD Fellowships in the main areas of astrophysics research at the IAC. During the period of training, students carry out their doctoral studies at the University of La Laguna under the supervision of a tutor and undertake research work leading to a doctoral thesis as part of a research group at the IAC.
The IAC offers its doctoral students bibliographical, computing and observing facilities, and access to its own and international research projects, as well as the necessary funding for the effective undertaking of research activity. They will be based at the IAC's headquarters (La Laguna), a stimulating and keen working environment, with access to all Canary Islands telescopic and supercomputing facilities, including the 10.4m GTC, to other Spanish facilities, to ESO, ESA, and IRAM.
Nine PhD Students have already been selected by this program.
In addition,  the Severo Ochoa accreditation guarantees the participation of the IAC in the "La Caixa - Severo Ochoa" International PHD Program. Within this program, the "La Caixa" Foundation awards several PhD fellowships to be carried out in one of the Severo Ochoa Centres of Excellence.
Nine PhD Students have already been selected by this program.
Resolución de la Dirección del Consorcio Público Instituto de Astrofísica de Canarias por la que se convoca proceso selectivo para la contratación de un/a Ingeniero/a, fuera de convenio, en la modalidad de contrato laboral de obra o servicio para la realización de un proyecto específico de investigación científica o técnica (15.1.a, del RDL 2/2015

The IAC (Tenerife) announces ONE postdoctoral contract to work on topics within the project "Support to WEAVE stellar surveys", led by Dr. Giuseppina Battaglia and Dr. Sergio Simon Diaz. The contract is financed by the "SEVERO OCHOA PROGRAM" (CEX2019-000920-S), supported by the Spanish Ministry of Science and Innovation. It follows the selection of

Resolución de la Dirección del Consorcio Público Instituto de Astrofísica de Canarias por la que se convoca proceso selectivo para la contratación de un/a Ingeniero/a, fuera de convenio, en la modalidad de contrato laboral de obra o servicio para la realización de un proyecto específico de investigación científica o técnica (15.1.a, del RDL 2/2015

Resolución de la Dirección del Consorcio Público Instituto de Astrofísica de Canarias por la que se convoca proceso selectivo para la contratación de un/a Ingeniero/a, fuera de convenio, en la modalidad de contrato laboral de obra o servicio para la realización de un proyecto específico de investigación científica o técnica (15.1.a, del RDL 2/2015

The IAC (Tenerife) announces ONE postdoctoral contract to work on topics within the project "Image analysis tools for large galaxy surveys", led by Dr. Helmut Dannerbauer and Dr. Ignacio Trujillo. The position is offered to work on various activities related to the surveys "SHARKS: Southern H-ATLAS Regions Survey" and to the low surface brightness