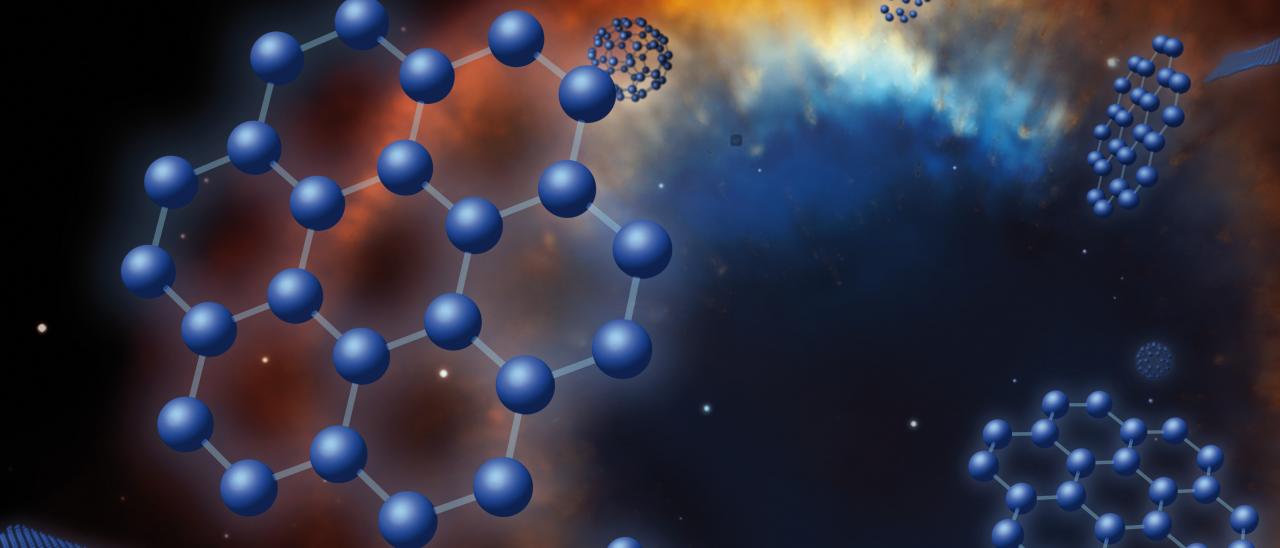 General

Description

Low- to intermediate-mass (M < 8 solar masses, Ms) stars represent the majority of stars in the Cosmos. They finish their lives on the Asymptotic Giant Branch (AGB) - just before they form planetary nebulae (PNe) - where they experience complex nucleosynthetic and molecular processes. AGB stars are important contributors to the enrichment of the interstellar medium where new stars/planets are born (including our own Early Solar System, ESS), and to the chemical evolution of stellar systems like globular clusters (GCs) and galaxies. In particular, the more massive (M > 4-5 Ms) AGB stars synthesize very different (radio)isotopes from those formed by lower mass AGB stars and Supernova detonations, as a consequence of different nucleosynthesis mechanisms. Evolved stars in the transition phase between AGB stars and PNe also form diverse organic compounds like PAHs, and fullerene and graphene molecular nanostructures, being a wonderful laboratory for Astrochemistry. On-going massive surveys like SDSS-IV/APOGEE-2 and the upcoming James Webb Space Telescope (JWST) represent a fundamental step forward to understand the nucleosynthesis and molecular processes in evolved stars. We aim to explore the nucleosynthesis of light and heavy (radio)isotopes in AGB stars and how they contribute to the ESS radioactive inventory as well as to the formation and evolution of GCs and galaxies. We also aim at understanding the top-down formation process of fullerene and graphene molecular nanostructures in evolved stars. Finally, it is intended to perform data mining with the Gaia satellite, in order to study the AGB- PNe evolutionary phase. In addition we aim to use the GALEX database to discover binary central stars in Galactic PNe.
Members
Results

1. During 2020, we have published 37 papers in high-impact international refereed astronomical journals (including one invited review) and 2 papers in the Chemistry -Physics journal FNCN.

2. Phosphorus-rich stars with an extremely peculiar chemical abundance pattern have been discovered for the first time, challenging the theoretical nucleosynthesis predictions.

3. It was demonstrated that the P-rich star progenitors represent a new site for s-process nucleosynthesis, with important implications for the chemical evolution of our Galaxy.
Scientific activity

Related publications

The Milky Way bar and bulge revealed by APOGEE and Gaia EDR3

We investigate the inner regions of the Milky Way using data from APOGEE and Gaia EDR3. Our inner Galactic sample has more than 26 500 stars within |XGal|< 5 kpc, |YGal|< 3.5 kpc, |ZGal|< 1 kpc, and we also carry out the analysis for a foreground-cleaned subsample of 8000 stars that is more representative of the bulge-bar populations. These samples

Queiroz, A. B. A. et al.

Planetary nebulae in Gaia EDR3: Central star identification, properties, and binarity

Context. The Gaia Early Data Release 3 (EDR3), published in December 2020, features improved photometry and astrometry compared to that published in the previous DR2 file and includes a substantially larger number of sources, of the order of 2000 million, making it a paradigm of big data astronomy. Many of the central stars of planetary nebulae

González-Santamaría, I. et al.

Final Targeting Strategy for the Sloan Digital Sky Survey IV Apache Point Observatory Galactic Evolution Experiment 2 North Survey

The Apache Point Observatory Galactic Evolution Experiment 2 (APOGEE-2) is a dual-hemisphere, near-infrared (NIR), spectroscopic survey with the goal of producing a chemodynamical mapping of the Milky Way. The targeting for APOGEE-2 is complex and has evolved with time. In this paper, we present the updates and additions to the initial targeting

Beaton, Rachael L. et al.

Ammonia-methane ratios from H-band near-infrared spectra of late-T and Y dwarfs

Aims: Our goals are to investigate the relative absorption strengths of ammonia and methane using low-resolution H-band (1.5−1.7 microns) spectra obtained in the laboratory and compared with observational spectra of late-T and Y dwarfs, and to estimate what can be expected from the wide-angle low-resolution near-infrared spectroscopic survey that

Martín, E. L. et al.

AGB Stars and Their Circumstellar Envelopes: An Operative Approach to Computing Their Atmospheres

The study of AGB stars necessarily covers a wide range of topics, from the primary astronomical observations to their interpretation in terms of fundamental physics. All that requires proper ad hoc methodologies, among which numerical modeling of the outer layers of AGB stars plays a paramount role. In this paper, we present an iterative sequential

Cristallo, Sergio et al.

AGB Stars and Their Circumstellar Envelopes. I. the VULCAN Code

The interplay between AGB interiors and their outermost layers, where molecules and dust form, is a problem of high complexity. As a consequence, physical processes like mass loss, which depend on the chemistry of the circumstellar envelope, are often oversimplified. The best candidates to drive mass-loss in AGB stars are dust grains, which trap

Nanni, Ambra et al.

Vinylacetylene synthesis with a low power submerged carbon arc in n-hexane

Gaia-ESO survey: Lithium abundances in open cluster Red Clump stars

Context. It has recently been suggested that all giant stars with masses below 2 M⊙ suffer an episode of surface lithium enrichment between the tip of the red giant branch (RGB) and the red clump (RC). Aims: We test if the above result can be confirmed in a sample of RC and RGB stars that are members of open clusters. Methods: We discuss Li

Magrini, L. et al.

CAPOS: The bulge Cluster APOgee Survey. I. Overview and initial ASPCAP results

Context. Bulge globular clusters (BGCs) are exceptional tracers of the formation and chemodynamical evolution of this oldest Galactic component. However, until now, observational difficulties have prevented us from taking full advantage of these powerful Galactic archeological tools. Aims: CAPOS, the bulge Cluster APOgee Survey, addresses this key

Geisler, D. et al.

Double-lined Spectroscopic Binaries in the APOGEE DR16 and DR17 Data

APOGEE spectra offer ≲1 km s-1 precision in the measurement of stellar radial velocities. This holds even when multiple stars are captured in the same spectrum, as happens most commonly with double-lined spectroscopic binaries (SB2s), although random line-of-sight alignments of unrelated stars can also occur. We develop a code that autonomously

Kounkel, Marina et al.

Symbiotic Stars in the Apache Point Observatory Galactic Evolution Experiment Survey: The Case of LIN 358 and SMC N73 (LIN 445a)

LIN 358 and SMC N73 are two symbiotic binaries in the halo of the Small Magellanic Cloud, each composed of a hot white dwarf accreting from a cool giant companion. In this work, we characterize these systems using a combination of spectral energy distribution (SED)-fitting to the extant photometric data spanning a broad wavelength range (X-ray

Washington, Jasmin E. et al.

Alternative Strategies to Solve the Stellar Atmosphere Problem

At the heart of the computation of model atmospheres there is the so-called Stellar Atmosphere Problem, which consists of the self-consistent solution of the radiative transfer equations under specific constraints. The amazing progresses achieved in the field since the 1970s are due to both the dramatic increase of the computational facilities and

Crivellari, L.

Testing the Limits of Precise Subgiant Characterization with APOGEE and Gaia: Opening a Window to Unprecedented Astrophysical Studies

Given their location on the Hertzsprung-Russell (H-R) diagram, thoroughly characterized subgiant stars can place stringent constraints on a wide range of astrophysical problems. Accordingly, they are prime asteroseismic targets for the Transiting Exoplanet Survey Satellite (TESS) mission. In this work, we infer stellar properties for a sample of

Godoy-Rivera, Diego et al.

Homogeneous analysis of globular clusters from the APOGEE survey with the BACCHUS code ‑ III. ω Cen

We study the multiple populations of ω Cen by using the abundances of Fe, C, N, O, Mg, Al, Si, K, Ca, and Ce from the high-resolution, high signal-to-noise (S/N>70) spectra of 982 red giant stars observed by the SDSS-IV/APOGEE-2 survey. We find that the shape of the Al-Mg and N-C anticorrelations changes as a function of metallicity, continuous for

Mészáros, Szabolcs et al.

Chemodynamically Characterizing the Jhelum Stellar Stream with APOGEE-2

We present the kinematic and chemical profiles of red giant stars observed by the Apache Point Observatory Galactic Evolution Experiment (APOGEE)-2 survey in the direction of the Jhelum stellar stream, a Milky Way substructure located in the inner halo of the Milky Way at a distance from the Sun of ≍13 kpc. From the six APOGEE-2 Jhelum pointings

Sheffield, Allyson A. et al.

APOGEE view of the globular cluster NGC 6544

The second phase of the APOGEE survey is providing near-infrared (near-IR), high-resolution, high signal-to-noise spectra of stars in the halo, disc, bar, and bulge of the Milky Way. The near-IR spectral window is especially important in the study of the Galactic bulge, where stars are obscured by the dust and gas of the disc in its line of sight

Gran, F. et al.

An enquiry on the origins of N-rich stars in the inner Galaxy based on APOGEE chemical compositions

Recent evidence based on APOGEE data for stars within a few kpc of the Galactic Centre suggests that dissolved globular clusters (GCs) contribute significantly to the stellar mass budget of the inner halo. In this paper, we enquire into the origins of tracers of GC dissolution, N-rich stars, that are located in the inner 4 kpc of the Milky Way

Kisku, Shobhit et al.

The APOGEE Data Release 16 Spectral Line List

The updated H-band spectral-line list (from λ15000-17000) adopted by the Apache Point Observatory Galactic Evolution Experiment (APOGEE) for the SDSS-IV Data Release 16 (DR16) is presented in this work. The APOGEE line list is a combination of atomic and molecular lines, with data drawn from laboratory, theoretical, and astrophysical sources

Smith, Verne V. et al.

Orbital Torus Imaging: Using Element Abundances to Map Orbits and Mass in the Milky Way

Many approaches to galaxy dynamics assume that the gravitational potential is simple and the distribution function is time invariant. Under these assumptions there are traditional tools for inferring potential parameters given observations of stellar kinematics (e.g., Jeans models). However, spectroscopic surveys measure many stellar properties

Price-Whelan, Adrian M. et al.

Carbon dust in the evolved born-again planetary nebulae A 30 and A 78

We present an infrared (IR) characterization of the born-again planetary nebulae (PNe) A 30 and A 78 using IR images and spectra. We demonstrate that the carbon-rich dust in A 30 and A 78 is spatially coincident with the H-poor ejecta and coexists with hot X-ray-emitting gas up to distances of 50 arcsec from the central stars of PNe (CSPNe). Dust

Toalá, J. A. et al.

Related talks

No related talks were found.

Related conferences

No related conferences were found.
News